Sometimes I don't even know that my boys are using my camera.  Until I am uploading some of my own photos, and I find things like this:
Have I mentioned that we have a cat?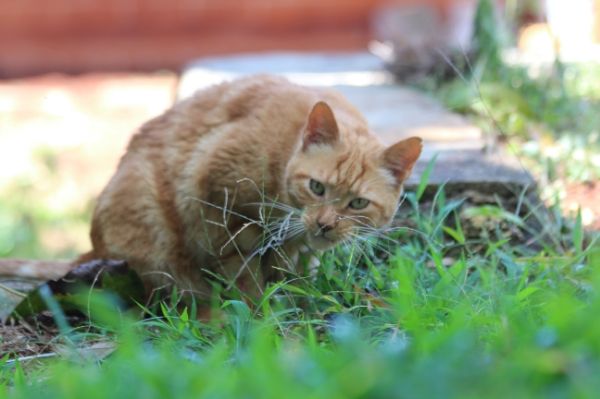 His name is Pumpkin, and I suppose I have neglected to talk much about him.
In fact, I suppose I have neglected him in general.
Sorry Pumpkin.
He's a good enough cat, and I really do like cats.  I'm not a crazy cat lady, but growing up with cats and dogs, I've always loved them both.  But Pumpkin is just a bit of a loner.  The stiff kind of cat, that doesn't like to be held.  He's not the soft and cuddly type.  I prefer the soft and cuddly type.  (Don't tell Pumpkin.)  I mostly ignore him and knock him off the counter when he tries to sneak up.  (twelve times a day.)
But he's good for catching an occasional field mouse, and he can open our screen door with his paw.  Oh, and recently he did impress us by throwing up IN THE BOYS' TOILET.  Gotta give him some credit for that one.
It appears that Luke has been following Pumpkin around lately, because I found three different series of cat photos this week.
Some with this purple ribboned head band around his middle.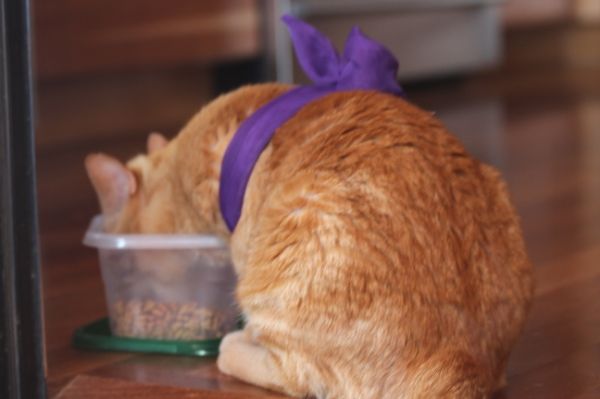 Anyone missing a purple ribboned headband?
It's not mine, and I am pretty certain it didn't come from the boys' closet.
Well, I guess it's Pumpkin's now.
Apparently it's good for napping in the dirt.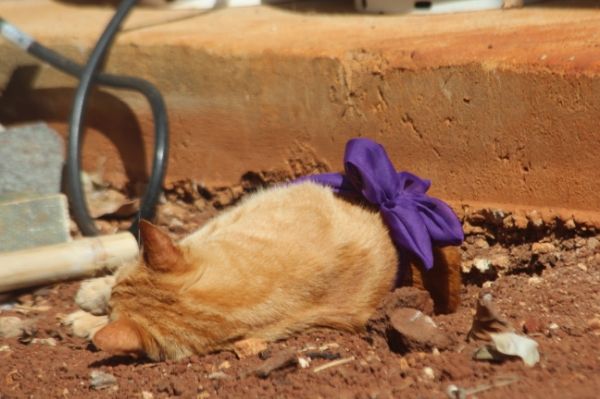 Poor cat.
Speaking of poor cat, Pumpkin has been through a lot in his little nine lives.  He went missing for FOUR months once.  Check this out:

A few years ago, we all realized that Pumpkin hadn't been around for awhile.  We looked for him and called for him for weeks, but he never showed up.  We were all sad, but like I said–he has never been super attached to any of us, so we kind of moved on.  He was finally gone so long, that we figured he had either been sick and died a private death somewhere in the forest, or perhaps he had found a new home.
Then, the week we were moving OUT of our old home, (at least four months after he had gone missing,) we got a call from the Humane Society.  They had found our missing Pumpkin, in DOWNTOWN HONOLULU (Sand Island, for those of you familiar with Honolulu.)   That is like a forty minute drive on the freeway from where we lived.
Huh!?
Thanks to the micro-chip that they place under a pet's skin these days, they were able to trace Pumpkin to our family.
We were excited to hear the news, but completely stumped as to HOW our cat ended up in downtown Honolulu, living in a place known for homeless campers.  However, the timing (mid-way through a move, and headed into a condo that did not allow pets,) was NOT ideal.   But it all worked out in the end. (Some kind friends kept him for a year for us.)
So, now Pumpkin is back.  And I should probably appreciate him much more than I do.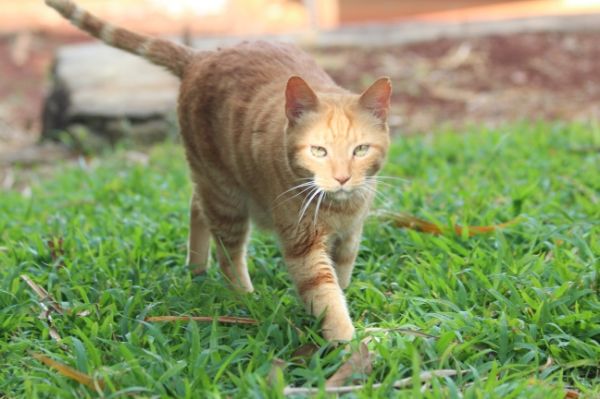 Meanwhile, Luke is a pretty good cat paparazzi.
And I'll keep knocking him off my counter, and wondering what went on for the four mysterious months of his life.
Aloha,
Grommom (and Luke, and Pumpkin.)
PS  After all of this cat talk, I think I want more cats.
PPS  DO YOU have a cat?   Are you a crazy cat person? What is your favorite kind of cat?