STARTING ON INSTAGRAM:  STEP BY STEP.
I love Instagram, and if you use it, I bet you do too.
However, if you've been wanting to try Instagram, but are intimidated by the thought of it, this is for you.
While we were on the mainland, I helped get a few friends and family members get started with Instagram, and it was so much fun to see them discover how easy it really is.  Since I've been back I've tried sharing about it over the phone a couple of times, and decided that this might be easier.  So–Hope it helps you, or that you might know someone to share it with.
Now, pull out your iPhone, and give me ten minutes of your time.  (Five if you're quick, fifteen if you're my mom.  Sorry, that was really mean.  I love you mom and I know I got most of my brains from you. haha.)
**If you don't have an iPhone, you still might be able to do this (and I assume the steps are very similar,) but I'm not sure.  You might want to find the nearest teenager and ask for help.
GETTING STARTED:
1.  Go to your app store.  It looks like this:  (Ignore the little "18″–I probably have updates or something.  But what you're looking for is that App store icon.  Click on it!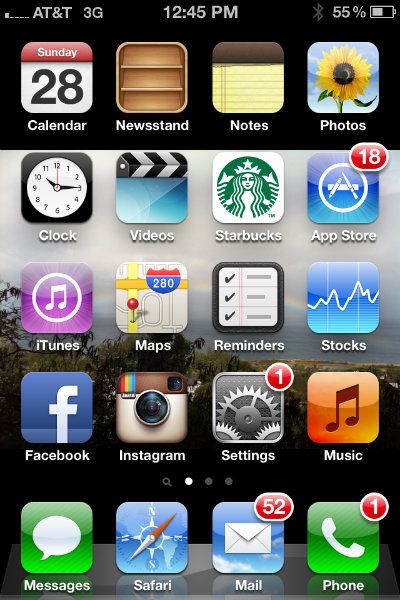 2.  When you click on it, you can "search" for apps.  Type "Instagram" in that top little search bar.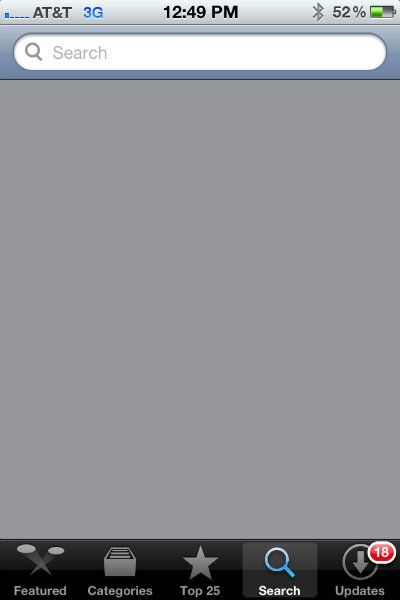 3.  Click "Search," and wait until a screen pops up with an Instagram app that looks like THIS.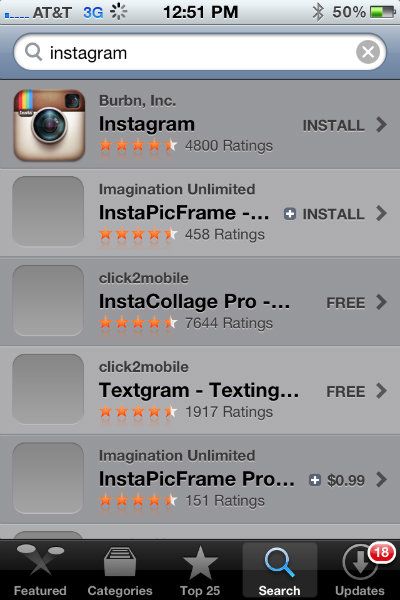 4.  Click on install.  It will ask for your password, which hopefully you know.  (If you have forgotten it, you can request for it to be emailed to you…Take a minute to find it and then WRITE IT DOWN. ;))
Be patient.  It may take a moment, but things are happening.  (If there is another prompt here, just follow it, I may have missed a tiny step.)
5.  Do you see it?  It should look like this: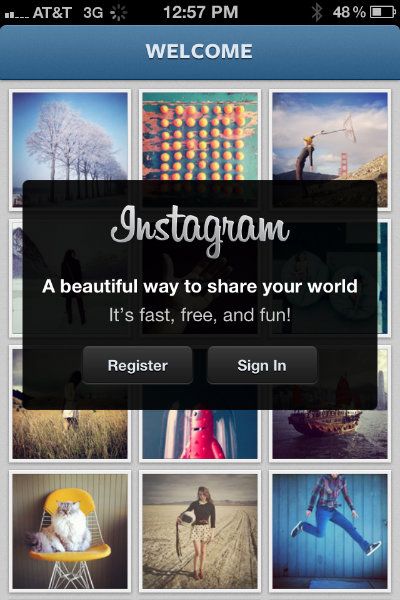 6.  Click Register.   Then a screen will come up with a couple things to fill in.  Since I'm already registered, I used Luke as my example (he thinks that's pretty cool. ;))  ** Be aware:  See where I typed "lukeyswan" in?  Whatever you put there will be your official USERNAME–The one people use to find you and what shows up when you post photos.  If you want to be easily found (for friends and family sake even,) I recommend you use something obvious/easy to remember.  The password will remain private–but of course, remember it.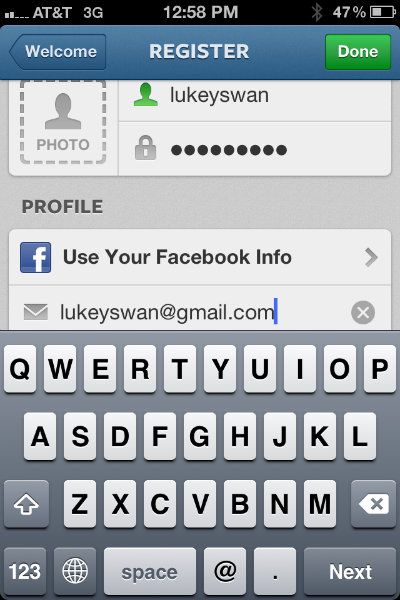 7.  Next it will ask you if you want to "Find Facebook Friends" (and another with "find friends using contacts" or something.)   You can take time to do that, but for this example, we clicked on "skip." and "next."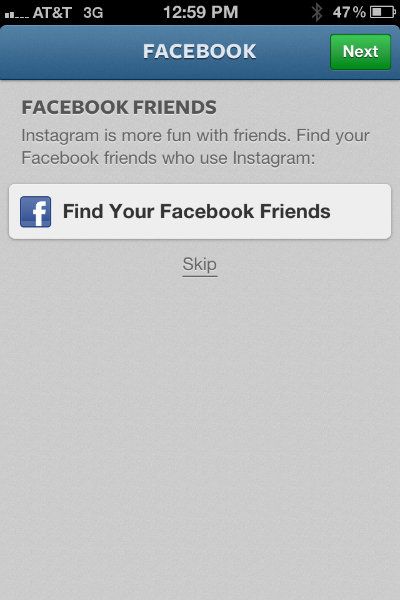 8.  The next screen will give some "suggested" people to follow.  I just clicked "DONE."
9.  The next screen will simply say "No Photos yet."  No worries, you're almost there already! 
CLICK ON THE BOTTOM RIGHT HAND CORNER OF THE SCREEN.  THIS IS YOUR PROFILE ICON>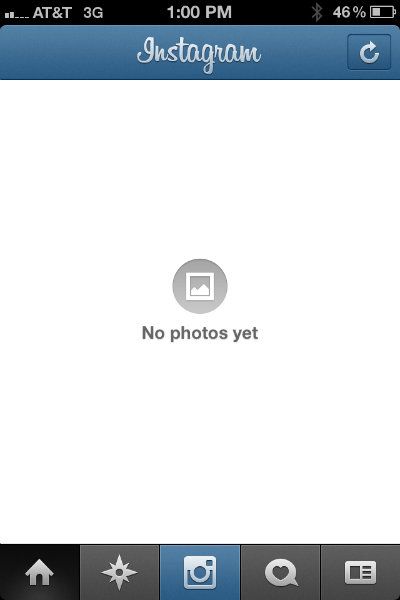 And when you do, it will take you to this: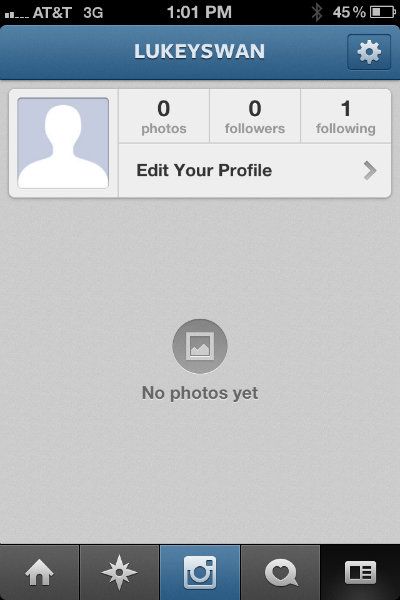 I suggest first setting your profile picture.  This will be the tiny photo that shows up each time you post something on Instagram.  So, simply click on that little box with a face silhouette.  And this screen will pop up: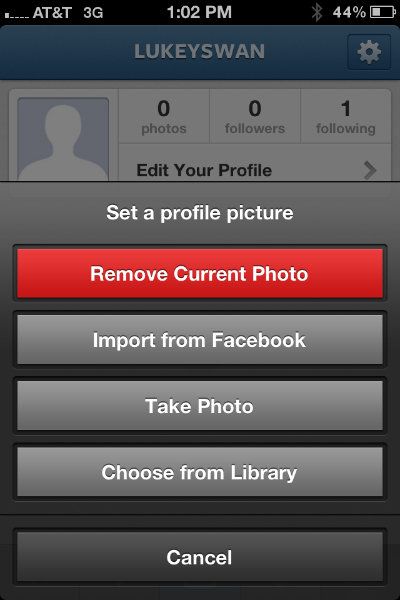 You have some options, but I always just click on "Choose from Library."  This is assuming you have some photos in your camera library.  Then click on the camera roll you want to use, and choose a photo for your profile.  **You can change this anytime as well, so no worries!
Here's what ours looked like after we clicked on a picture of Luke: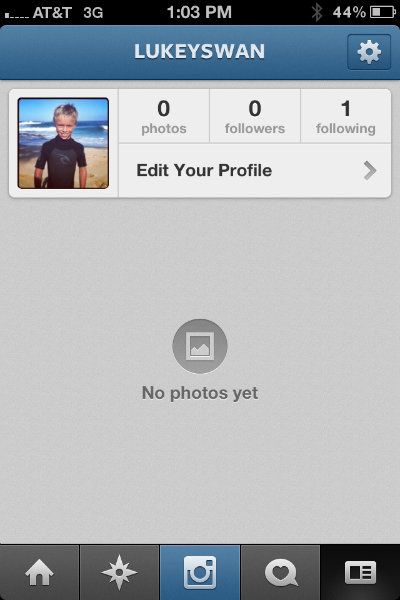 10.  Next, Click on "Edit Profile."
And you can put in any information you want.  Your "bio" will show up when people look at your home screen, so you can write a word or two about yourself, or whatever you feel like.  But you can also come back to this anytime–So no hurry.  Click "submit" when you're done.
LAST TWO THINGS!!  (Hang in there–you're nearly a pro now!)
11.  Practice posting your first picture on Instagram!
CLICK ON THE BLUE CAMERA ICON.  A screen will pop up which looks like you are about to use your phone as a camera.  You can use that–but for now—Don't!  Instead….(SEE next picture–where my camera was obviously pointed to my keyboard–but ignore that!) CLICK ON  THE BOTTOM LEFT CORNER–where you see two overlapping frames: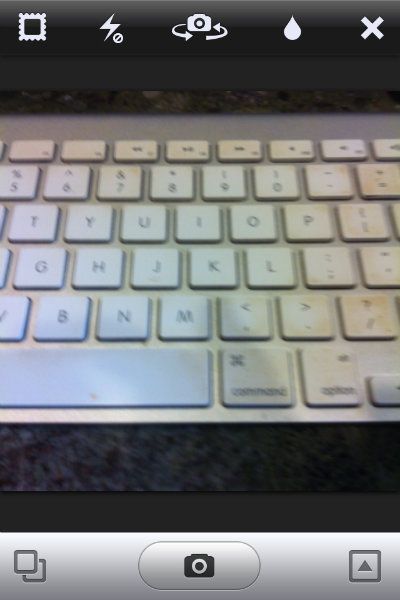 12.  This will lead you to your "camera library."  Go ahead, and choose a photo.  We'll use a photo of a shell the boys found last week.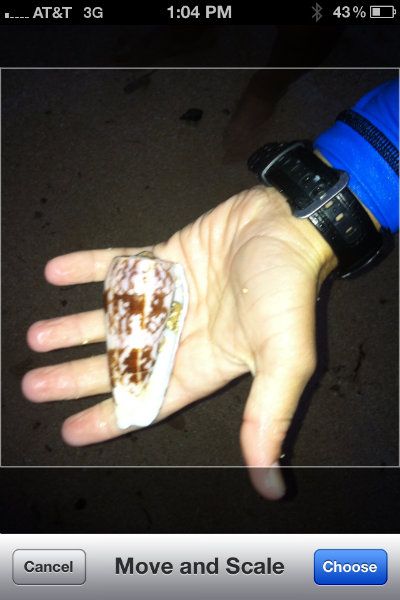 You can move the picture around a bit using your finger right on the screen…Then click "CHOOSE."  Next the screen will look like this: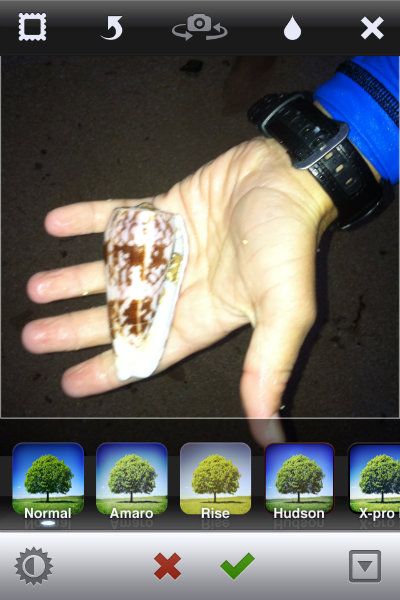 This is where it gets fun!  You can click on any of the "filters" shown across the bottom.  Don't be shy.  Click on one, then try another…Scroll across and try a few different filters.  When you find one you like, click on the green check mark.  And then a screen like this will pop up:  (Asking for "Caption.")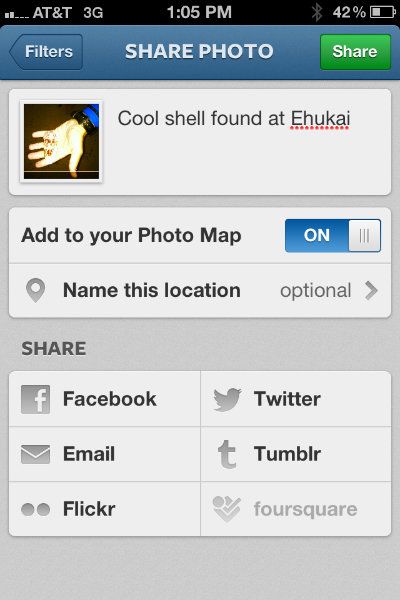 As you can see, we typed in "Cool shell found at Ehukai."  This is what will show when other people see your Instagram picture, so name it how you'll want it read…(you don't HAVE TO NAME it at all!)  Once you're done writing the caption, tap down below so that you can choose if you want to share it somewhere else (Facebook, Twitter, etc.)  I'm pretty sure you will be auto-linked to your existing accounts…
(Also–you can choose whether or not to "add to photo map," and "share your location."  That's not important for now.)
THEN CLICK SHARE!  And you're done with your first photo.  It will automatically show up to anyone "following you."
13.  Next you should find someone to follow!  (Or at least know how to!)  So, go to the "STAR" icon on the bottom med-left side of your Instagram screen.  Click on it, and you'll see a screen with a bunch of suggested photos.  (I ignore these.)  Instead, I go to the top search bar and type in a username.  For example, you can start with  "thegrommom."  (Go ahead, try it! :)) 
And when you do, you should get a screen LIKE THIS!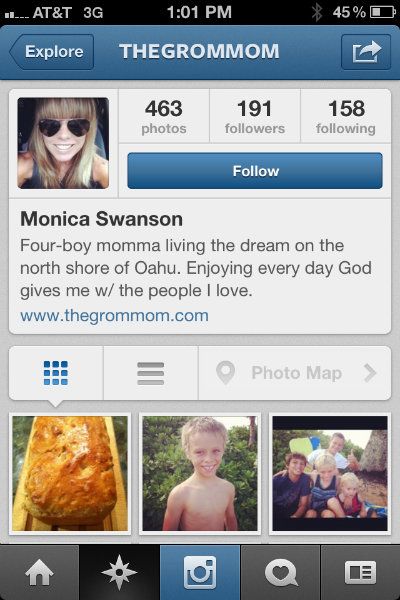 Click FOLLOW!

And you'll see this:
14.  Once you've followed all you want, just use that little HOUSE ICON (Bottom, left,) to go to your home screen, where you'll see a every Instagram posted by those you follow, scrolling down the screen.  You can "Like" by clicking on LIKE  (Or double-tapping the photos, which will show a little heart meaning you've "liked the photo,") You can also leave a comment at photos.  Easy peezy.
15.  Finally:  a quick look at the icons across the bottom:
LEFT "HOUSE":  This is "Home"–it will show you all Instagrams posted by those you follow.
STAR "Search":  Will allow you to type in names or usernames to find people to follow.
CAMERA (middle):  Use this to TAKE a photo for Instagram, or to go to your camera roll (by clicking the bottom left overlapping frame icon in the next screen,) to use a photo you already have as an Instagram.
HEART IN BUBBLE: This will show you ALL activity in YOUR account.  It will list every person who LIKES one of your photos, and it will show you new followers, etc.
RECTANGLE bottom/right:  Your profile.  Shows all Instagrams, and other profile information.  You can click around to learn much, MUCH more!
Now I really REALLY hope that someone will try this and give me feedback as to how it goes.  I hope I didn't miss anything!  If I did, please comment  right away!  If it helped, I'd love to hear that too.
Happy Instagramming, and keep in touch.  Aloha to you all-
Grommom