So next week is my birthday…and I kinda love birthdays.  Actually, I love any kind of celebration, and birthdays are a great excuse to do some celebrating.
Honestly though , this year will not be a much of an event.  Dave works a long shift, I really *should* homeschool (we'll see
) and the boys have all of their usual afternoon/evening activities.  With so many house-projects in mid-process, it's also not a good time to splurge on gifts.  I kind of think of our fall vacation as one big celebration anyways, because I'm the one who planned it, and it was a pretty perfect trip!
But just for the sake of dreaming, I came up with my own little birthday WISH LIST.  You know, some of the things I'd really LOVE to have if I could….(And Dave did buy three lottery tickets for the first time in his life while in Oregon, so ya never know…haha!)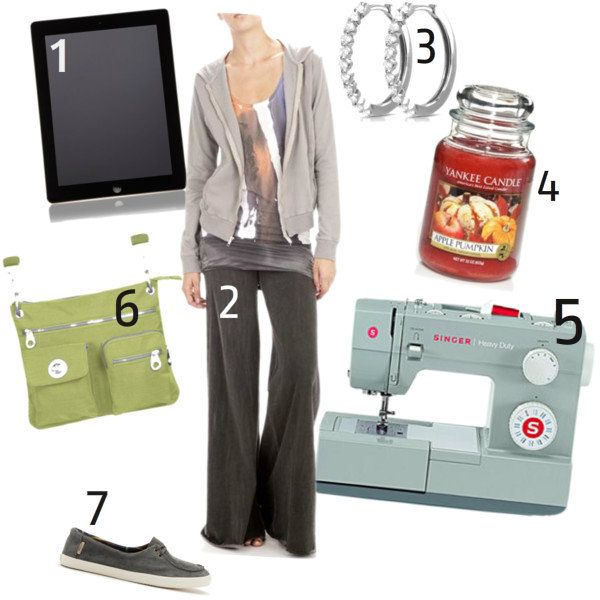 1.  iPad.  (Do you have one?  Do you love it?)
2.  I really am ready for another pair of my favorite SURF NOMAD PANTS from Barefoot Yoga Co.  In fact, I think I could live in this entire outfit.
3. Diamond hoop earrings.  Heavenly Bling!  This pair is from  77 Diamonds.  I don't splurge on REAL jewelry very often–I tend to buy more trendy pieces that don't cost very much.  But when I had a good look at all of the gorgeous diamonds at this site, I started dreaming of my next piece of REAL diamond jewelry…Maybe an anniversary ring, or earrings like these!  GORGEOUS!
4.  Yankee Candle.  I have two fall scents burning now, but pumpkin apple–now that HAS to be fall in a jar. Mmmm.
5.  Sewing Machine.  Really.  I need one.  For the basics (hemming, etc.) but I've also got a little itch to try creating some things…Why do you look surprised?
6.  Baggallini.  I kept seeing people with these while I was on the mainland, and I think they look like the most practical, classy purses…
7.  Vans shoes (from Vans.com
) My boys all wear them, so I should too, right?
I have something on my mind to post later on…IF I get to it, so check back in.  Which REMINDS ME!  WE THINK WE FIXED THE SUBSCRIPTION LINK!  So, if you would like to get email notifications when I post here, go ahead and put your email address in the upper right hand side of this page in the "subscription" link.  It just takes a second.  (And be sure to confirm it when you get an email about it!)
Hope your weekend is incredible.  I'll be cheering for Luke at the great ANNUAL MENEHUNE SURF CONTEST right in Haleiwa at Ali'i Beach.   (If you weren't around for last year's event, you can see what it's all about in THIS old post.
)  I'll also be cheering for Jonah at a soccer game…how bout you?  Surf?  Soccer?  Football?  A pumpkin patch?  Enjoy it, whatever it is!
With ALOHA!
GM
**This post does contain some affiliate or sponsored links.  However, everything on my list is genuine and from the heart.